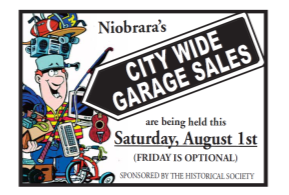 Niobrara Citywide Garage Sales
Niobrara Tribune - Valorie Z.
Thursday, July 30, 2020
The Niobrara Historical Society is sponsoring Citywide Garage Sales in Niobrara and Running Water, S.D. on Saturday, Aug. 1. Some sales start on Friday. To see a full list of garage sale locations and items being sold, check out this week's edition of the Niobrara Tribune.